"It takes 20 years to build a reputation and only a few minutes of a cyber security incident to ruin it" - Stephane Nappo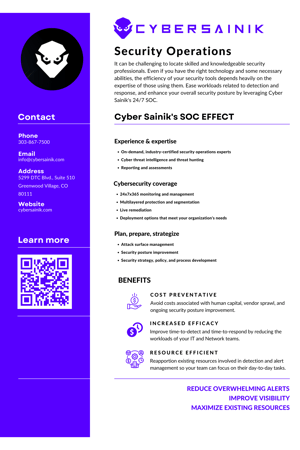 No one ever wants their company's reputation, which has been so specifically crafted over multiple years of hard work, to be destroyed by a cyber attack that can occur in less than minutes.
Learn how an outsourced security operations center from Cyber Sainik can affect your business and protect your business's reputation with this resource.
"Risk Management for the Modern Company: Security as a Service"
During this webinar, we will explain what Security as a Service is, how it works, and the benefits it can provide for your business. Watch our webinar to learn more about how SOCaaS can help your business to stay protected from cyber threats.
"Security Operations Maturity Model" by LogRhythm® & Cyber Sainik®
What will you learn?
Understanding and measuring the capabilities of a Security Operations program
The LogRhythm Security Operations Maturity Model and MORE!
Learn more about Cyber Sainik's SOC