Achieving Business Agility Without Complicating Network Security
Executive Summary
"Most organizations are in the midst of some form of digital transformation (DX), transforming how they bring products and services to the market-- and ultimately deliver value to their customers. But DS initiatives also bring complexity for the network operations team. With business-critical services distributed across multiple clouds, this leads to potential performance issues, especially at branch locations.
Given these realities, it is no wonder that software-defined wide-area network (SD-WAN) technology is rapidly going mainstream. Unfortunately, SD-WAN is an example of the paradox of DX: transformative technology can potentially move the business to the next level, but the expanded attack surface it creates expose the organization to significant risk. That is why an SD-WAN deployment, like every other DX effort, should be accompanied by a security transformation (SX) that rethinks outdated principles, broadens protection beyond the data center, and integrates the security architecture for centralized visibility and control."
Learn how you can achieve business agility without complicating network security using this whitepaper from our tech partners at Fortinet®.
Contact Cyber Sainik in Denver, CO to begin the next steps of your network security program today.

Source: Fortinet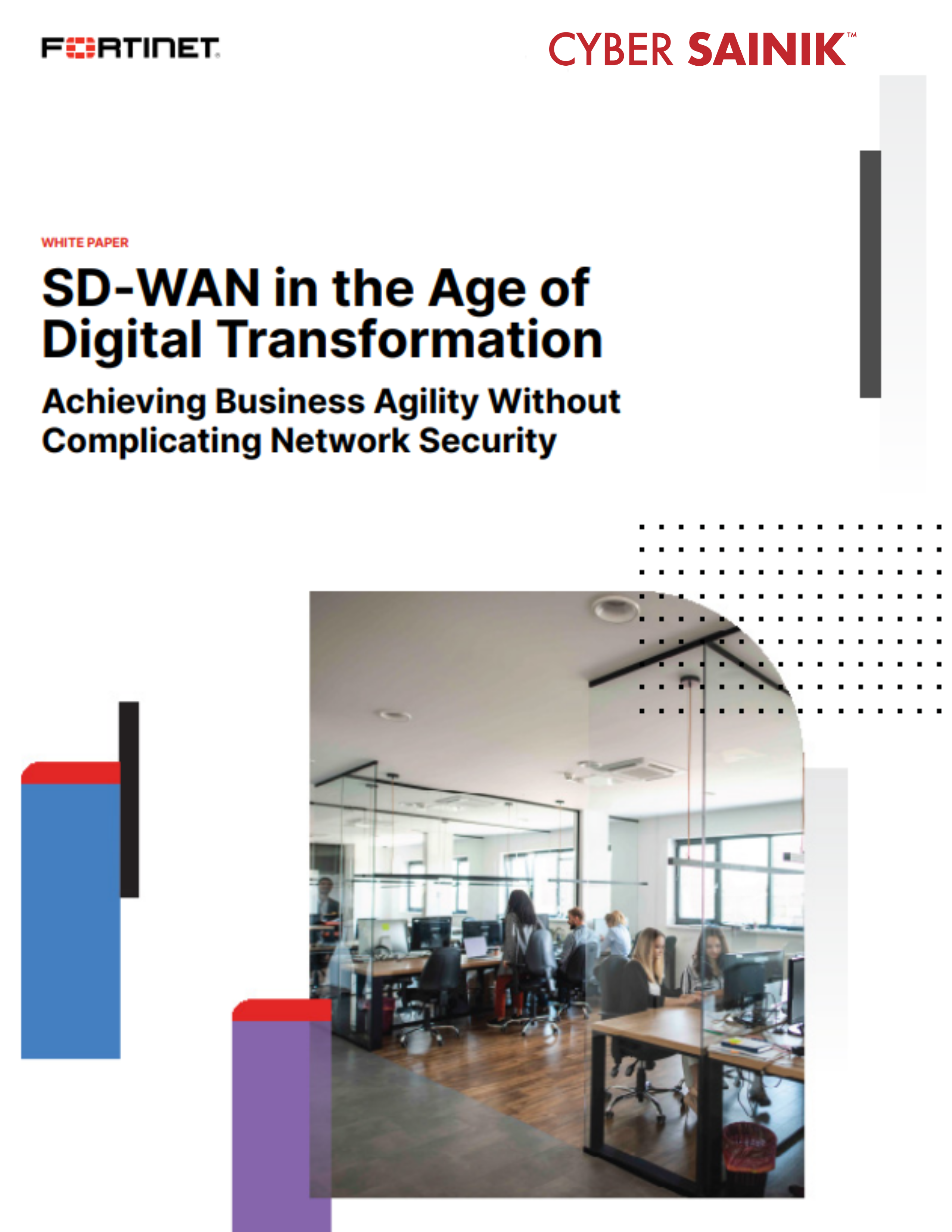 Ransomware, the Exploding Cyber Threat - A Look at What, Why, and How
Learn more about what ransomware is, along with how and why it poses a threat to enterprises and organizations. Read more.
Top 5 Cybersecurity Threats & Challenges to Pharmaceutical Businesses
Educate yourself on the role digital transformation plays in your enterprise's Cyber Exposure and cyber risk. Read more.
7 Critical Considerations for Firewall Performance in the Era of Remote Work
Enterprises face new cybersecurity threats as the attack surface grows. Learn key concepts for firewall performance in today's digital world. Learn more.