Our client is a high production glass fabrication and installation company serving both residential and commercial industries. As an established organization that has been operating for over 30 years, they recently decided to address security concerns throughout their infrastructure.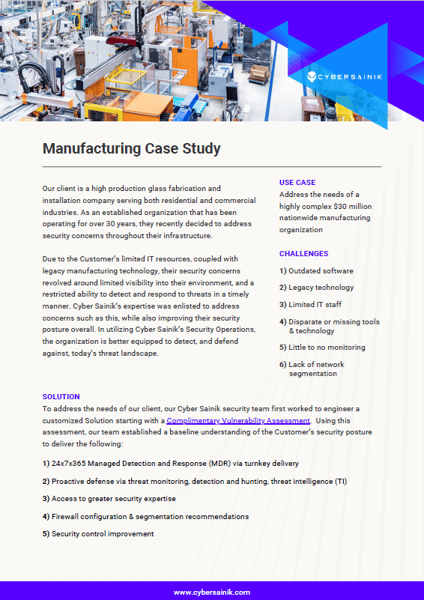 This Customer turned to Cyber Sainik to address:
Outdated software & l

egacy technology





Limited IT staff & little to no monitoring




Disparate or missing tools



Lack of network segmentation
If this sounds like any of the problems your manufacturing organization is encountering today, please feel free to contact us to learn more.
"Cybersecurity for the Manufacturing Shop Floor" by Tenable®
Depending on the size of the organization and the specific industry, unplanned downtime can cost anywhere from $90,000 to $6.4 million per hour of lost productivity. The vast majority of organizations (98%) claim that only one hour of downtime costs more than $100,000 per hour.
"Securing the Manufacturing: An Active Directory Security Perspective" by Tenable®
Securing AD is vital for the success of manufacturing companies. By implementing continuous monitoring and prevention technologies, these companies can proactively block attacks and protect against cyberthreats, ensuring uninterrupted business operations.